รายละเอียด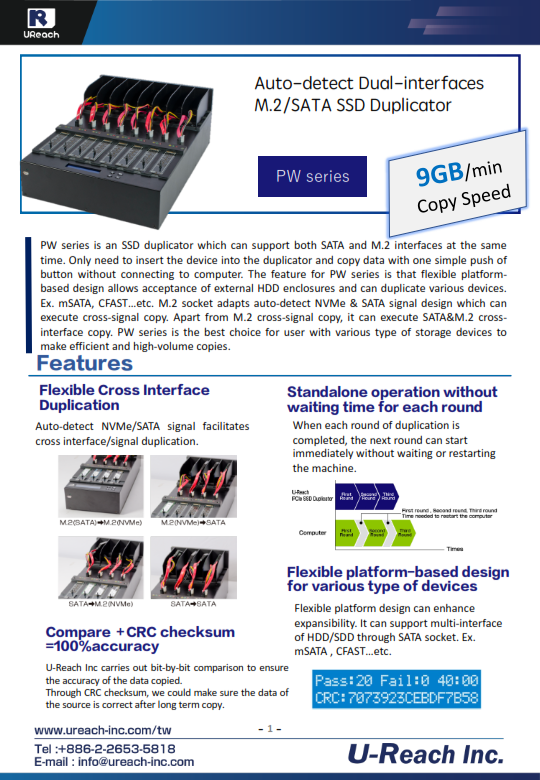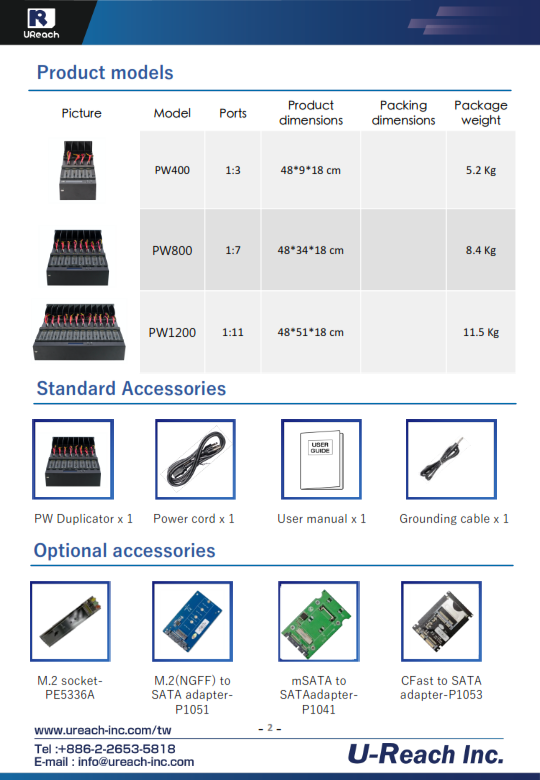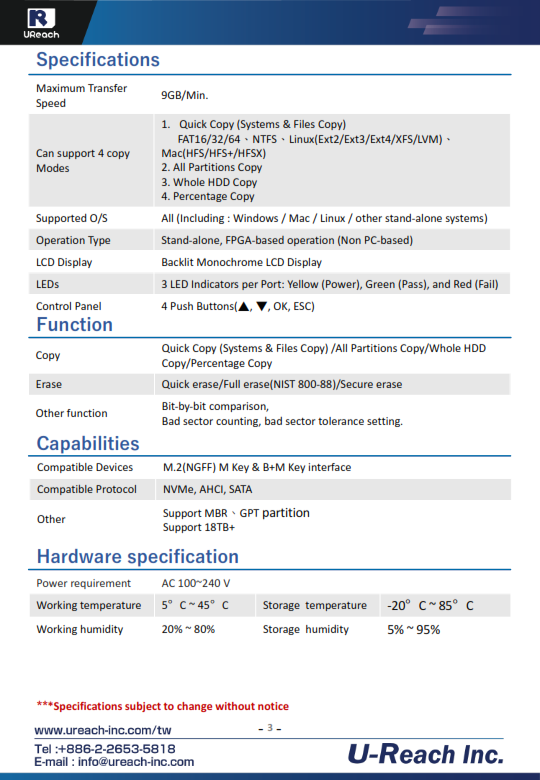 M.2 & SATA Dual Port Duplicator
NVMe, AHCI, SATA
M.2(NGFF) M Key & B+M Keyinterface
รองรับความเร็วสูงสุดที่ 9 GB / Min
PW series is an SSD duplicator which can support both SATA and M.2 interfaces at the same time. Onlyneed to insert the device into the duplicator andcopy data withone simple push of button without connecting to computer. The feature for PW series is that flexible platformbased design allows acceptance of external HDD enclosures and can duplicate various devices. Ex. mSATA, CFAST…etc. M.2 socket adapts auto-detect NVMe & SATA signal design which can execute cross-signal copy. Apart from M.2 cross-signal copy, it can execute SATA&M.2 crossinterface copy. PW series is the best choice for user with various type of storage devices to makeefficientandhigh-volumecopies.

When each round of duplication is completed, the next round can start immediately without waiting or restarting the machine.
PWseries
Flexible platform design can enhance expansibility. It can support multi-interface of HDD/SDD through SATA socket. Ex. mSATA , CFAST…etc.
Auto-detect NVMe/SATA signal facilitates crossinterface/signalduplication.
9GB/min Copy Speed
U-Reach Inc carries out bit-by-bit comparison to ensure theaccuracyofthedatacopied. ThroughCRCchecksum,wecouldmake surethedataof thesourceiscorrectafterlongtermcopy.
–
StandardAccessories
Product models
PWDuplicator x 1 User manual x 1 Power cord x 1
2
PW400 1:3 48*9*18 cm 5.2 Kg
PW800 1:7 48*34*18 cm 8.4 Kg
PW1200 1:11 48*51*18 cm 11.5 Kg
Groundingcable x 1
Optionalaccessories
M.2 socketPE5336A
mSATA to SATAadapterP1041
M.2(NGFF) to SATA adapterP1051
CFasttoSATA adapter-P1053
–
Specifications Maximum Transfer Speed 9GB/Min.
Can support 4 copy Modes
1. Quick Copy (Systems & Files Copy) FAT16/32/64、NTFS、Linux(Ext2/Ext3/Ext4/XFS/LVM)、 Mac(HFS/HFS+/HFSX) 2.All Partitions Copy 3.Whole HDD Copy 4.Percentage Copy Supported O/S All (Including : Windows / Mac / Linux / other stand-alone systems) Operation Type Stand-alone, FPGA-based operation (Non PC-based) LCD Display Backlit Monochrome LCD Display LEDs 3 LED Indicators per Port: Yellow (Power), Green (Pass), and Red (Fail) Control Panel 4 Push Buttons(▲, ▼, OK, ESC) Function Copy Quick Copy (Systems & Files Copy) /All Partitions Copy/Whole HDD Copy/Percentage Copy Erase Quick erase/Full erase(NIST 800-88)/Secure erase Other function Bit-by-bit comparison,Bad sector counting, bad sector tolerance setting. Capabilities Compatible Devices M.2(NGFF) M Key & B+M Keyinterface Compatible Protocol NVMe, AHCI, SATA Other Support MBRGPT partition Support 18TB+ Hardware specification Powerrequirement AC 100~240 V Working temperature 5C ~ 45C Storage temperature -20C ~ 85C Working humidity 20% ~ 80% Storage humidity 5% ~ 95%
PRICE LIST
PW400 (1-3) 75,000 บาท
PW800 (1-7) 169,000 บาท
PW1200 (1-11) 259,000 บาท